Geva Comedy Improv - July 15 & July 16 - 1030 PM (COME!)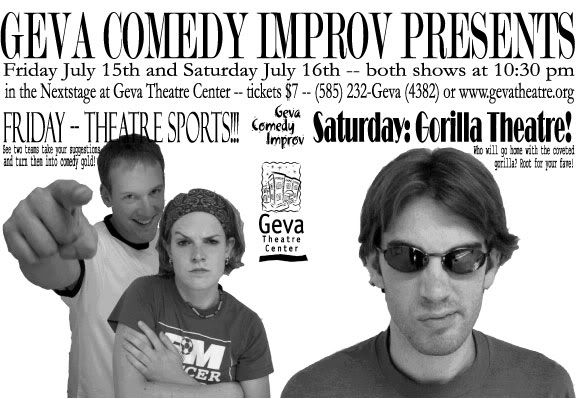 Hello.
Well, this weekend, Friday & Saturday night, there will some FANTASTIC
Geva Comedy Improv shows at Geva Theatre. This is the end of our
scheduled second season (but don't fret - we're returning in October
for more action! Plus a possible mystery August event) so if you want
give us a great send-off for the summer, please come... on... down!
WHERE: Geva Theatre, 75 Woodbury Blvd Rochester NY 14607
WHEN: Friday (7/15) and Saturday (7/16) at 10:30 PM, doors open at 930 PM.
HOW MUCH: Tickets for these AMAZING shows are only $7/night.
WHAT: Friday will be Theatre Sports, Saturday will be GORILLA Theatre.
(Adam Litz & I will be involved both nights. On Friday, I'll be
performing and Adam will be the guest host. On Saturday, we'll both
be competing in the unique Gorilla Theatre style.)
There will be prize giveaways, drink specials and tons of fun. It's a
terrific casual environment (no need to dress up!) and should prove to
be some hilarious entertainment.
Watch us try to spin your suggestions into fried nuggets of comedy
gold! Adults and kids of all ages are welcome to come.
To grab tickets in advance, call the Geva Box Office at 232-GEVA, stop
by Geva in person or contact me (Chris) and I can pick you up some
tickets!
Remember, if you've put off all season coming down to Geva then this
is your last BIG chance. Don't let the summer expire without having
been to a show! For those that have been before, this will sadly be
our farewell to two of our most beloved and talented improvisers:
Shawnda Urie (a.k.a. 1st Micetro Champ) and Chris Holden (a.k.a.
British Chris). Help us send them off to Philadelphia in a grand
fashion!
All the best and hope to see some of you down there this weekend!